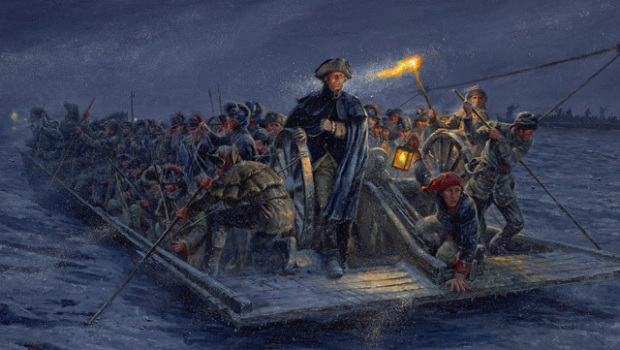 "Perhaps the most accurate depiction ever of George Washington crossing the Delaware."
That's how historians describe Washington's Crossing at McKonkey's Ferry, a 2011 painting by renowned historical artist Mort Künstler (above).
Soon, visitors to Washington Crossing Historic Park can view Künstler's original painting in the Visitor Center. The piece, currently on display at Mount Vernon, will be hung at the park sometime in August and stay until July 2020.
The painting was commissioned by U.S. Rep. Thomas Suozzi (D-NY, 3rd District), a Revolutionary War buff who wanted a depiction that corrected known errors in the iconic Emanuel Leutze painting.
"What Mort accomplished so brilliantly is showing how desperate conditions were during the low point of the American Revolution," Rep. Suozzi said. "It's my hope that all Americans will learn from this painting."
A More Realistic Depiction
Künstler has earned acclaim over the years for his painstakingly researched paintings that strive for accuracy. For Washington's Crossing at McKonkey's Ferry, he invested two months of research that included consulting historians, books, journals and weather reports. He also researched the kinds of boats in use at the time and even visited Washington Crossing to photograph the Delaware River.
Künstler's painting depicts a 60-foot flatboat ferry guided by cable and crowded with dozens of troops, cannons and horses instead of the small rowboat that Leutze depicted. While Durham boats were used in the crossing, the ferry is known to have been present at that location in 1776 and was most certainly used by Washington to get his troops across the river.
In the painting, Künstler includes a night sky filled with sleet and snow, not the bright and clear conditions Leutze depicted. Washington is not elevated but rather nestled against a cannon wheel for support. The ferry cuts through thick sheets of ice rather than the mini icebergs in the Leutze painting. Künstler also didn't include the Stars and Stripes since that flag was not adopted until 1777.
How the Painting Came to Be
Rep. Suozzi said he became fascinated with Washington's crossing after reading the David McCullough book 1776 during an unsuccessful run for New York Governor in 2006. He said Washington's heroism inspired him to stay in the race despite his dismal poll numbers.
"It was a heroic decision by Washington in a desperate and down time," Rep. Suozzi said. "And during my darkest days, when I had no shot of winning, I was inspired by Washington to keep going."
When Rep. Suozzi commissioned the painting, he intended for it to travel around the country. During a personal visit to Washington Crossing Historic Park several months ago, he asked if there was anything he could do to help the park.
Jennifer Martin, executive director of the Friends of Washington Crossing Park, decided to make a bold request. "I asked if we could display the painting," she said. "He said he thought he could make that happen."
Fortunately for the residents of Bucks County and beyond, he did.
See the Painting For Yourself
The painting will be displayed in the Washington Crossing Historic Park Visitor Center (1112 River Road, Washington Crossing, PA) sometime in August. The painting will remain at the park until July 2020. The Visitor Center is open seven days a week from 10 AM to 5 PM. There is no charge to view the painting. Please call the Visitor Center at 215-493-4076 with questions.